Extract more performance from your battery
More Range + Longer Battery Life
More miles per dollar
Efficient
igrenEnergi revolutionary battery management system granularly monitor 100+ different battery parameters including currents, voltages, state of charge, state of health and temperature to accurately predict energy at cell level and optimizes battery energy efficiency while also improving battery life. This enables you to extract maximum ever energy from your Li-ion cells, delivering higher range per buck.
No Increase In Charging Time On Ageing
Faster Charging Over Lifetime
Ultra Fast
The POW.AI solution with proprietary balancing technology continuously measures cell SOC and SOH and dynamically delivers appropriate energy in and out of the cells to ensure zero time wasted in balancing of mismatched cells, including very high mismatches seen in aged batteries. This helps eliminate the anxieties associated with increase in charging time, making the battery ideal for commercial & personal EV applications.
Intelligent Portal & Analytics: Better Insights About Battery Parameters
Design & build better batteries
scalable
Our best in class intelligence and analytics platform enables you with more actionable insights about battery parameters to help you design & manufacture better. The modular architecture supports a very wide range of power and energy configurations by stacking multiple BMS cards in series and parallel. And with a BMS that delivers more life and range, you can build a more efficient battery through savings from not overbuilding.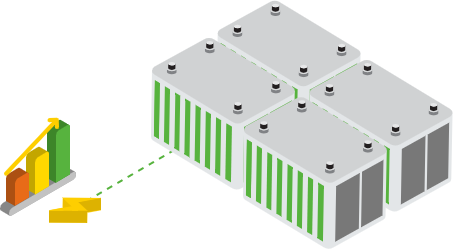 Have Questions? We are Here to Help You!
For any sales, partnership or product related enquires about our battery pack or intelligent BMS systems, reach us at: sales@igrenEnergi.com